Globalkicau.com – A modern bohemian interior design style is a great choice if you want to liven up your home without getting too cluttered. This eclectic style is full of varying patterns, colors, and textures.
Key Components of Modern Bohemian Interior Design
There are no hard and fast rules, but a few common practices make this style a perfect fit for most homes. Let's take a look at what makes it so unique and how you can get started with your own modern bohemian design. Colors are a key component of modern bohemian interior design. This style is based on freedom of expression, and it relies heavily on mixing patterns, textures, and colors to create a unique and cohesive look.
The colors used in a modern bohemian room are usually bright, bold, and richly colored. Jewel tones like burgundy and emerald green are often utilized in a bohemian space, but they can also be mixed with more muted shades for an elegant, sophisticated look. When choosing colors, it's important to keep a consistent theme in mind. This is especially true when it comes to fabrics and accessories.
A simple way to achieve this is by layering different patterns, shapes, and scales of textiles on top of one another. This is a great way to introduce bohemian style without breaking the bank! It's also a good idea to add some plant life into the mix. This not only brings in the natural world but improves air quality and gives a more energetic feel to the space. In the bohemian world of interior design, patterns are an essential part of the aesthetic. Layered patterns, like kilims and rugs, add to the carefree vibe that's a hallmark of this style. Patterns can also be found in furnishings, from pillows to blankets. These layered elements, combined with textures and colors, help create an overall feel that's both cozy and eclectic.
Ideas for Filling a Home in the Right Interior Design Style
Handmade pieces are a must in this interior design style, as they accentuate the individuality of the owner. They also support small artisans around the world. The idea is to fill your home with items that speak to you, and that tell a story about your travels. Decorative vases, art, textiles, and furniture are great places to start.
Aside from these, plants are another important component of bohemian decor. They clean the air and purify the space, bringing an element of nature into your home that's both relaxing and refreshing. Modern bohemian interior design is a mix of different textures and patterns. The key is to layer them in a way that makes the space feel eclectic and personal.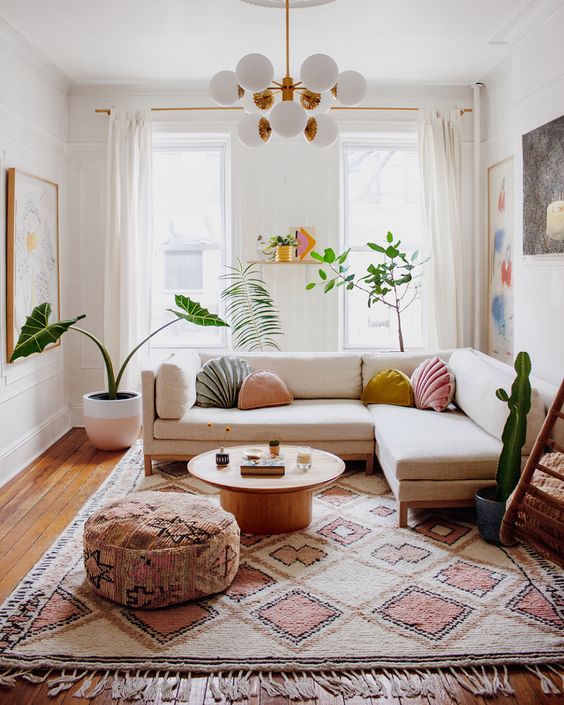 Textures such as wicker, leather, sheepskin, and cowhide create a modern, yet exotic, style. Adding these materials, along with some patterned pillows and wall art, can give a room a more interesting, eclectic look. Another way to bring texture into a bohemian space is to incorporate plants. These purify the air, add color, and can even help to fill up empty spaces.
Adding a Touch of Nature to the Space
If you want to add a touch of the outdoors into your space, then plant your favorite succulents or snake plants in woven baskets, terra-cotta pots, or patterned ceramics. They are easy to care for, and add a natural element to the space. Decorative accents such as beads, tassels, fringes, sequined fabrics, and canopies are also very common in bohemian styles. These adornments add that extra bit of glam and wow factor that sets the style apart.
Whether it's a piece of art, sculpture, pillow, or lamp, accessories are an essential component of modern bohemian interior design. They help to create a unique space that tells a story and gives your home personality. The bohemian style often reflects a traveler's personal experience, so consider accessories that have traveled from different places to give your space a sense of global charm.
Decorative trinkets from around the world, bejeweled frames, and lace can add a touch of cultural interest to your home. A variety of plants can also bring a sense of nature to your home. Easy-care succulents in terra-cotta or patterned ceramic planters fill up your space and can be cared for with minimal maintenance.