Globalkicau.com – If you are looking to make your kitchen feel like a tropical getaway then look no further than a small tropical kitchen. They are bright and breezy and bring a touch of tropical island life to your home.
Bright Colors to Create a Bolder Look
Often starting off with white, these designs then add pops of color via wallpaper and furniture. They also often utilize natural wood tones such as teak, mahogany and bamboo. Color is an important element of a tropical kitchen design. White is often the base color in this style, but other bright hues can be added to create a more bold look.
For example, you could use a vibrant green banana leaf wallpaper to add a pop of color to the kitchen. Adding colorful decor like rattan bar stools or coral wicker chairs is also a great way to infuse the space with a tropical theme. If you're hesitant to go all out, consider a more neutral tone that still makes the space feel bright and fresh. A mellow yellow or cream may be a good choice for your small tropical kitchen, especially if you'd like to keep the color scheme from feeling too overpowering.
A tri-tone combination of pink, teal, and red is another fun option to try for a modern tropical kitchen. This bold combo can add some magic to a small kitchen while still feeling very original. A small tropical kitchen can be designed with a variety of furniture. This can include a large kitchen island with a light wood finish, repurposed wooden pieces, and woven furniture.
Offers a Light, Natural Feel and is Easy to Clean
In addition, tropical-themed rugs can help give the kitchen a relaxed atmosphere. Choose a colorful pattern that coordinates with your theme and matches the rest of your decor. Rattan or wicker furniture offers a light, natural feel and is easy to clean. This type of furniture also provides a comfortable place to sit, making it perfect for dining in a tropical-themed kitchen.
Aside from furniture, other items you can add to a tropical kitchen include curtains, placemats and linens. These can all feature designs with seashells and other tropical themes to evoke a feeling of the tropics. Lighting is also an important factor in creating a tropical look. In a small tropical kitchen, you can play up the laid-back color scheme by using light and soothing shades. Whites and cremes are common, but you can also add accents of bold greens, oranges and blues.
For lighting, try a series of pendants over a kitchen island or a cluster of mini pendants across the center of the prep space. These fixtures give you a more eclectic look than a single large light, while still maintaining a clean, minimalist style. In a kitchen, lighting is an essential part of the design. It should be considered in conjunction with other design elements and include main, task and decorative lighting for a balanced and functional design.
Classic Backsplash Ideas in Modern and Traditional Styles
Backsplashes in tropical kitchens are a great place to incorporate both color and artistic expression. Mosaics with palm trees, sea life, or other motifs can add bold accents to the overall design. White subway tile is a classic backsplash idea that works well in both modern and traditional styles. Dark grout lines help hide stains.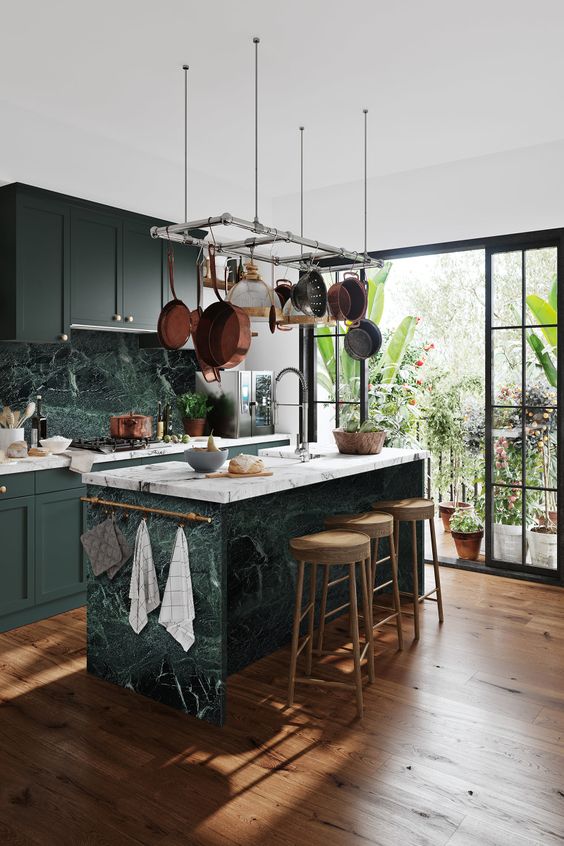 Glass is another backsplash option that feels light and airy, as well as modern. It's also available in a variety of colors, shapes and sizes. A backsplash made of glass can be a great choice for small spaces. It's simple, but can make a big impact in any room. When choosing a backsplash for your tropical kitchen, it's important to consider the style and size of your space. A smaller backsplash will be less noticeable, while a large one can cover the entire wall between your countertops and cabinets. We really appreciate and welcome guest post submissions from you.