Globalkicau.com – Countertops can be a focal point in your kitchen. Choose from modern materials like glass and metal or for a more traditional look consider soapstone or reclaimed wood.
Commercial Kitchen and Elegant Enough to Decorate Home
A raised marine edge looks sleek with a contemporary kitchen, while a rough-hewn chiseled edge works well in a rustic farmhouse style. For something even more unique try a sandblasted finish. Stainless steel countertops are tough enough for a commercial kitchen and elegant enough to grace any home. Impervious to heat and rust, this commercial work surface is durable and hygienic; it also doesn't stain and wipes clean easily.
Pros: Stainless steel counters are non-porous and develop a patina that some homeowners appreciate. Cons: The metal can show small scratches and can be noisy when setting hot pots or pans on it. This unique countertop idea is a variation of slab granite. Instead of solid granite, this alternative uses a modular system with different-sized pieces that create a random pattern. This counter option can be more expensive than a traditional slab counter. But it's a great way to create a one-of-a-kind look. Plus, it's eco-friendly!
Glass counters offer limitless options for texture, color, and pattern. Each countertop is a unique piece of functional art. Add LED lighting and it becomes a dynamic centerpiece that changes throughout the day as natural light and LEDs play with the surface. GEOS recycled glass countertops are an earth-friendly option, made from post-consumer and industrial waste, plus a proprietary binder. They look similar to engineered stone, perform well and require no sealing.
Copper Adds a Unique Touch to Any Kitchen
Textured glass can be back painted to conceal cabinet contents beneath or fabricated with a waterfall edge. It can also be back-lit to create a dramatic effect. Back-painted textured glass is available in any color match from Sherwin Williams or Benjamin Moore. Copper is not a typical countertop material and therefore adds a unique touch to any kitchen. Unlike plastic laminate, granite or tile, copper dulls over time creating a patina effect, which some people find attractive.
Some types of copper have natural antimicrobial properties, which may be an advantage for areas where food is prepared. Copper is also very durable and is heat resistant. Unsealed copper countertops oxidize over time producing a variety of red, green and brown shades that create a unique, individual look. This oxidation process is called patina and is a sign of quality, giving your counters character. If you prefer a polished appearance, consider using a countertop sealer to keep it shiny and clean. You can use cleaners for stainless steel or glass to clean sealed copper countertops.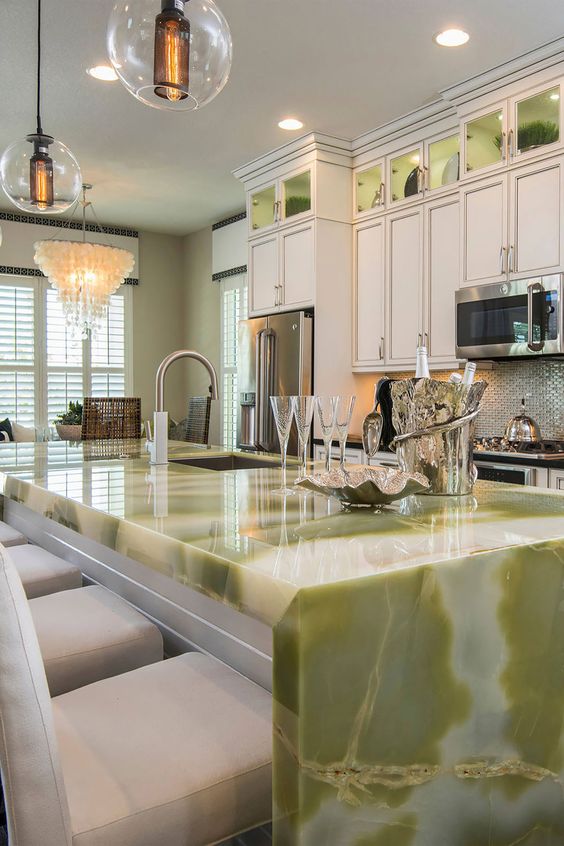 For a more modern design, try a split-level countertop that is not only unique but extremely functional. This example shows a wooden counter that slides away to reveal a stainless steel area for food prep and cooking. This is a popular style for homes with an open concept kitchen and living space, where family members often gather to socialize over food or watch TV. The layered look adds dimension and creates an attractive focal point for gatherings.
Making Countertops with Other Materials to Make It Look Cool
Few surfaces are as customizable as a poured concrete countertop, which allows homeowners to customize the color, stain and texture for a one-of-a-kind finish. Homeowners who enjoy a challenge can even attempt to make their own countertops using this material, such as this unique project that involves gluing pennies to a wood surface. Few countertop materials can match copper for warmth, patina, and old-world charm. Lorin Hill opted for this unique material in her kitchen, tying the counters to her antique wood cabinets with a brass backsplash and faucet.
Even simple granite counters can get a makeover with a free-form edge. This wavy edge profile looks more natural than a squared or eased option, and it fits well into modern and traditional design styles. While stainless steel counters have become more popular, they can still be an eye-catching alternative to other materials. Pair a sleek surface with warm wood or a one-of-a-kind slab of concrete for an on-trend look. Whether you go with exotic granite, marble or something unexpected like this one-of-a-kind glass, your counters will be more than just a work surface.