Globalkicau.com – Whether you prefer a sleekly upholstered bed or a traditional wood nightstand, this style of bedroom decor can feel like a luxe presence in your sacred sleep space. Mixing lighting options helps establish a consciously sophisticated vibe, too—in this case, an elegant wall sconce paired with a modern bedroom lamp.
Gives a Dramatic Impression to a Modern Bedroom
The color of the walls can make a dramatic statement in a modern bedroom. The style leans toward neutral monochromatic concepts, so using a dark shade creates an impact without overwhelming the room. Blue is a popular choice, especially because it's easy on the eyes and offers a calming effect. For a bolder look, choose a deep navy shade that stands out in the light and pairs well with a variety of furnishings and accents.
Green is another neutral that can work well in a modern bedroom. Sherman-Williams' Color of the Year, Evergreen Fog, and Behr's Breezeway are shades that would easily cover a bedroom wall or be used as an accent. If you're hesitant to use a dark paint, try a neutral with undertones of pink or brown. The warm shades blend well with furniture and accessories, while still giving the bedroom a fresh, modern feel.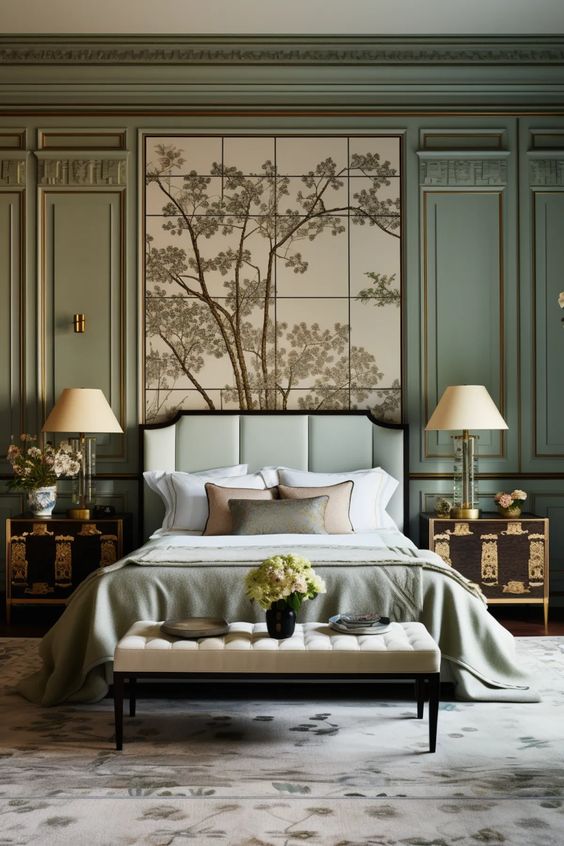 The modern style often favours clean lines and neutral colors, but that doesn't mean a bedroom has to be boring. Use texture, wood, and layered lighting to add interest without overwhelming the space. If you're not ready to commit to a full-on white room, try a subtle darker shade as an accent. This bedroom features a dark navy wall behind the headboard that makes the bed feel like a focal point.
Modern Bedroom Ideas with a Sophisticated Look
Don't forget about the ceiling when it comes to modern bedroom ideas. Whether you choose to paint the eaves in a matching shade or opt for a bold wallpaper, this design element can really make a statement. Mixing patterns can be a little intimidating, but with a bit of patience you can master the art of the combo. In this bedroom, the rattan peacock headboard and the striped throw pillows each contain different geometric patterns, which are pulled together with coordinating solids to create a sophisticated look.
A modern bedroom should always have at least one focal point. This could be an eye-catching light fixture, a patterned headboard, or a large piece of artwork. It's best to avoid using bright colors in large blocks, though, as they can be overstimulating. Instead, consider using them as accents throughout the room for a bold pop of color. Sleek, multi-functional furniture is another hallmark of modern decor. Consider adding a bench with storage space at the foot of your bed or a built-in shelf that doubles as a nightstand. Furniture that features a geometric look is also very modern, such as the squared frame and curved headboard in this bedroom designed by Atelier ND.
Modern Bedroom Furniture to Add Appeal
If you're shopping for modern bedroom furniture, look for pieces with a good wood finish, like the upholstered beds and dressers from Copeland Furniture or the clean lines of a sleek white bed frame from Blu Dot. Don't forget about wall sconces—they can be a big part of a modern room's lighting scheme, especially if you add a plug-in option that doesn't require installation. Modern decor often features sleek silhouettes and geometric shapes, but that doesn't mean texture is off the table. In fact, a woven sconce makes for an interesting bedroom addition that can help add interest to the space without introducing an overly modern element.
Using a monochromatic color scheme can also unify a modern bedroom. This bedroom's neutral palette gets a pop of color from striped bedding and a table lamp on the nightstand. Hanging lamps are a stylish option for a modern bedroom. Typically seen on the kitchen ceiling on a chain or rod, pendant lights are adaptable and functional, helping to free up space. They can increase the room's fashion quotient when fitted in the right spot, too, as demonstrated by this sculptural fixture with oversized vintage-style light bulbs. If you want to add a touch of glamour, choose a shiny metallic finish for the fixture. Alternatively, you can also opt for something more aesthetic like porcelain for an artisan effect.